News
Hello everyone. Ms. Miller here. I have not sent anything out in regards to Band Camp because I was waiting to hear back from a couple of groups of people to gather...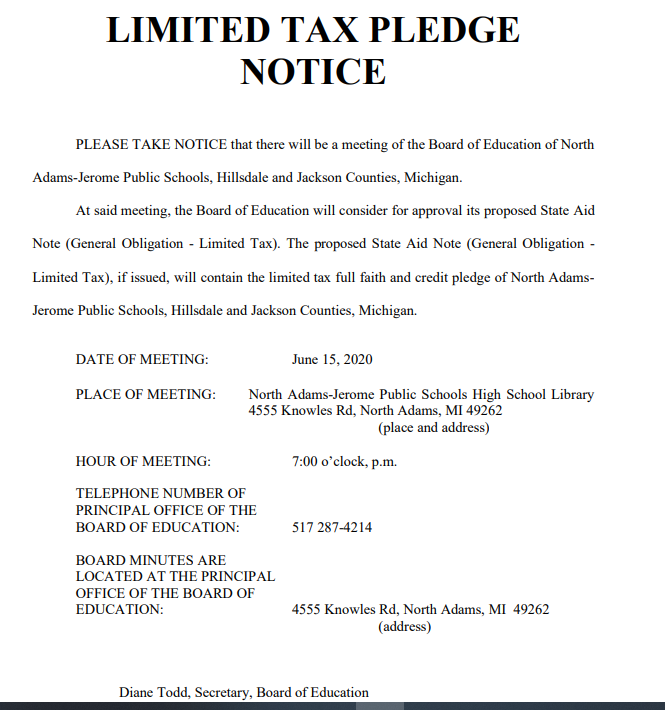 Limited Tax Pledge Notice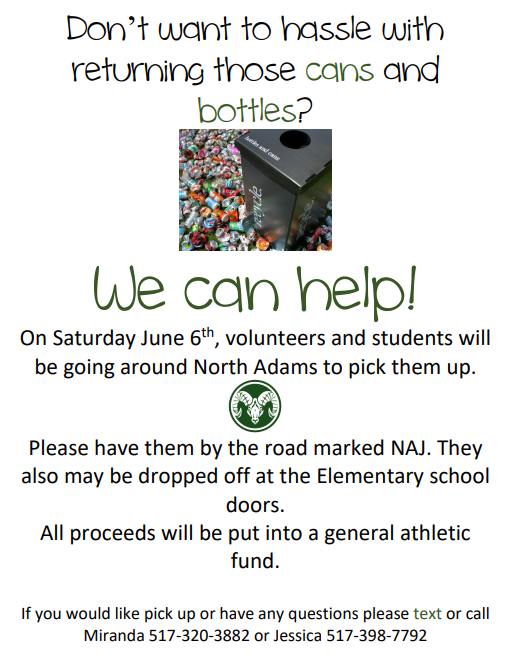 If you are sick of all those returnable pop cans & bottles, let NAJ help you!
SEE ALL NEWS
LIVE FEED

Val Trott
4 months ago
Dear NA-J Families,
As you know, face-to-face, in-house learning has been cancelled for the remainder of the school year. Though this makes us sad and we miss our Ram family, we know it is best to stay home and stay safe. In the meantime, our staff has been working hard to provide meals, to offer online study materials and resources, research and learn different delivery modes, all in addition to the preparation for our official response plan to the COVID-19 closure. They are so amazing, and we are so lucky to have them!
Our family surveys are almost complete, and we intend to submit our plan to the Intermediate School District this week. Once it is approved, we will add weekly delivery of printed instructional packets to families without full access to our online offerings. Teachers will be in communication with all of their students and families, and will have office hours during which they will be available by phone, email, or video conference. Lessons, projects, and assignments will be provided, along with a weekly schedule, as our distance learning adventure continues on Monday, April 13th. We appreciate the feedback and the support we have received from our students and families. With this feedback, we can work to make improvements, remove barriers, and do our best to support our students and families during these challenging times.
There are a few events that we are working on rescheduling and/or reworking.
The 5th grade trip to Mackinac Island: Tentatively rescheduled for October 15-16, 2020
Graduation: A rescheduled date has not been set; however, WE WILL have a ceremony to celebrate the Class of 2020. Stay tuned!
Meal deliveries have been scheduled each Monday. (Please place your order by Saturday to (810) 730- 7473. Meal pickup is available on Mondays between 10:30 am and 12:00 pm.
NA-J Kindergarten Roundup: Alternative options to face-to-face registration will be made available soon on our website, Facebook page, as well as by phone. Stay tuned!
We hope this letter finds you safe at home spending quality time with your loved ones. Thank you for your social-distancing efforts, your support, and your flexibility. We look forward to learning with you through our online offerings, on the phone, within our weekly instructional deliveries, through the mail - no matter the mode, you are on our minds, and we are counting the days until we are back together.
Take care,
Your NA-J Family
view image


North Adams-Jerome Public Schools
2 days ago
Fottball and volleyball players need physical forms turned in by August 10. Varsity football practice will be from 5-8 and starts on August 10.

North Adams-Jerome Public Schools
3 days ago
Although we are disappointed that the bond did not pass, we have learned a great deal about what we can do in the future.  Only 5 votes separated us from passing it and I am confident we can garner more support in our next attempt, which will probably be in November or early in 2021.  The future is bright for our district and people are seeing that.  I want to personally thank you for supporting us and I am proud to be the leader of NAJ. Sometimes we have to wait for the things we want, but be assured that it will be worth the wait. Thanks, Wes

North Adams-Jerome Public Schools
4 days ago
Good evening. This is a friendly reminder that the bond proposal is slated to be decided tomorrow, Tuesday, August 4, with polls open from 7 am until 8 pm. Thank you and have a nice evening.
SEE ALL POSTS