News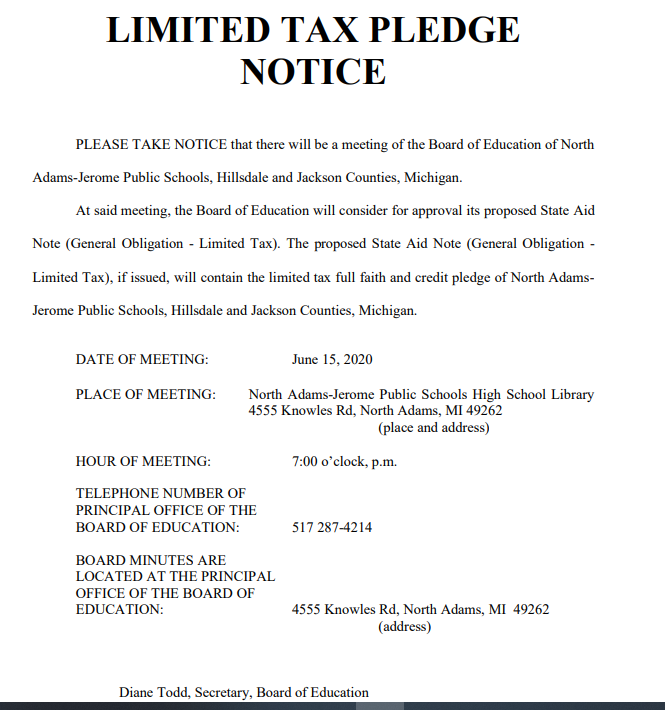 Limited Tax Pledge Notice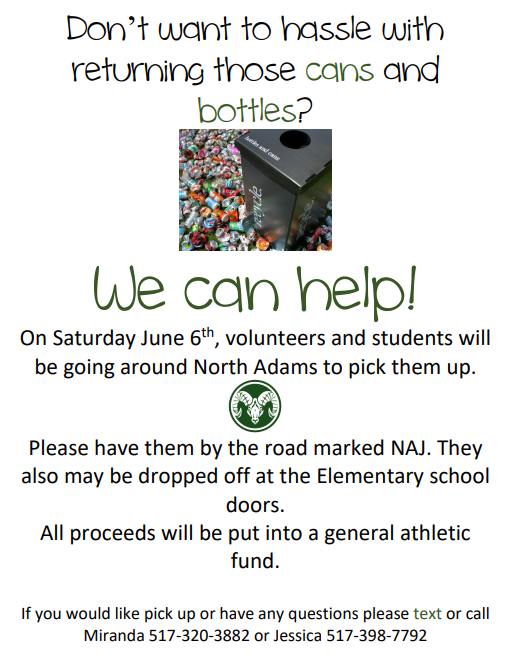 If you are sick of all those returnable pop cans & bottles, let NAJ help you!
We invite you to join our regular monthly school board meeting via the Internet.Join Zoom...
SEE ALL NEWS
LIVE FEED

Val Trott
3 months ago
Dear NA-J Families,
As you know, face-to-face, in-house learning has been cancelled for the remainder of the school year. Though this makes us sad and we miss our Ram family, we know it is best to stay home and stay safe. In the meantime, our staff has been working hard to provide meals, to offer online study materials and resources, research and learn different delivery modes, all in addition to the preparation for our official response plan to the COVID-19 closure. They are so amazing, and we are so lucky to have them!
Our family surveys are almost complete, and we intend to submit our plan to the Intermediate School District this week. Once it is approved, we will add weekly delivery of printed instructional packets to families without full access to our online offerings. Teachers will be in communication with all of their students and families, and will have office hours during which they will be available by phone, email, or video conference. Lessons, projects, and assignments will be provided, along with a weekly schedule, as our distance learning adventure continues on Monday, April 13th. We appreciate the feedback and the support we have received from our students and families. With this feedback, we can work to make improvements, remove barriers, and do our best to support our students and families during these challenging times.
There are a few events that we are working on rescheduling and/or reworking.
The 5th grade trip to Mackinac Island: Tentatively rescheduled for October 15-16, 2020
Graduation: A rescheduled date has not been set; however, WE WILL have a ceremony to celebrate the Class of 2020. Stay tuned!
Meal deliveries have been scheduled each Monday. (Please place your order by Saturday to (810) 730- 7473. Meal pickup is available on Mondays between 10:30 am and 12:00 pm.
NA-J Kindergarten Roundup: Alternative options to face-to-face registration will be made available soon on our website, Facebook page, as well as by phone. Stay tuned!
We hope this letter finds you safe at home spending quality time with your loved ones. Thank you for your social-distancing efforts, your support, and your flexibility. We look forward to learning with you through our online offerings, on the phone, within our weekly instructional deliveries, through the mail - no matter the mode, you are on our minds, and we are counting the days until we are back together.
Take care,
Your NA-J Family
view image

North Adams-Jerome Public Schools
4 days ago
The family of Kaye Truitt will be hosting a Celebration of life on Saturday, July 11th from 2pm - 5pm in the Multipurpose room here at North Adams-Jerome. Come with your smile and share the memories you made with her. Thank you.

North Adams-Jerome Public Schools
9 days ago
For those coming to Senior Spotlight tonight, please do not park in the south lot. It is being repaired and cannot be accessed by anyone. Thank you.

North Adams-Jerome Public Schools
16 days ago
Hello seniors. Please make arrangements to appear at the senior spotlight/ honors night on Wednesday, June 24. Everyone will be given an opportunity to speak. You can thank anyone who has helped you along your educational journey. This does not have to be a long speech. I hope to see you there. Thanks, Mr. Johnson

North Adams-Jerome Public Schools
23 days ago
MS volleyball workout is canceled tonight due to the weather. Thank you.
SEE ALL POSTS